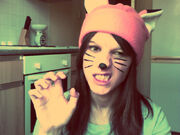 NightFox_Dancer
or simply just 'NightFox' or even 'Foxy' if you're feeling kinky (ARR! ARR!) is one of the regular forum members belonging to the
DS Eurovision Thread
.
NightFox is 19 years old and hails from Ipswich, Suffolk. She has been participating in all the Fantasy contest to date with her best result being 2nd place with Florence & The Machine and the song 'Shake It Out' from Heat 4 2012. Despite her enthusiasm to finally win a Fantasy round, this has so far not yet happened. Are we supposed to write these things in 3rd person or not?
She likes to eat cheese late at night and then have vivid dreams about other FMs, particularly WeedyDiamond, who she thinks looks like her favourite James Bond, Pierce Brosnan.
Likes to be spanked with a hairbrush when she is naughty.
Intends to visit the hairdresser next week to go ginger.
Final
Semi
Heat
 Heat ▶ SF 
Artist
Song
Pos
Pts
Pos
Pts
Pos
Pts
 Heat 1 
Martha Bean & Adam Burns
"Trust"
-
-
-
-
25th
16
 Andra
 Chansen 
Glukoza
"Schweine"
-
-
-
-
15th
44
Community content is available under
CC-BY-SA
unless otherwise noted.